Our History
Starfield is an independent, co-educational school in Lagos, Nigeria, serving students from infants to 12th graders. We instill in children a love of learning by encouraging curiosity, imagination, independence and assist them in discovering the importance of integrity, responsibility and respect in the society.
Starfield started in 1991 in a rented building situated on Iju Road, Lagos. Today, we have moved to our permanent site and have established two campuses, Starfield College and Starfield Montessori School. Starfield provides students with the right environment and facilities for practical and academic work to ensure that students excel in their chosen field. Highly qualified teachers and counselors are available to guide students through subject selection and mastery. In addition, emphases are laid on proper moral upbringing to allow the students develop the right social habits.
We are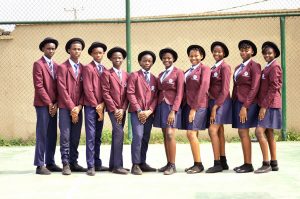 a diverse group of learners who strive for continuous improvement in teaching and learning. We have a conducive and productive learning environment structured around order, personal growth, respect, beauty and harmony. Our unique education ensures that students learn in the words of our school song.
Starfield has been entirely self-supporting since its establishment, we are very proud of our achievements and we look forward to meeting the educational needs of children growing up in the twenty first century.
Should you have any comment or feedback about our school and services, click here to express your opinion/view or make an enquiry.